Jared Baker, MSN, FNP-BC, ENP-C
Jared joined ESPMA in 2012. He received Diploma of Nursing from Los Angeles County School of Nursing. Bachelor of Science in Nursing Azusa Pacific University. Masters of Science in Nursing University of California Los Angeles. Board certified as a Family Nurse Practitioner and Emergency Nurse Practitioner.
He graduated with a degree from the University of California Los Angeles, Family Nurse Practitioner program. His Undergraduate degree was obtained from the Azusa Pacific University. He enjoys fly fishing, backpacking, and golfing with his daughter.
Gina Harter ACNP-BC
Gina has been an RN since 2002 after she received her BSN from Azusa Pacific University. She initially worked at St. Joseph Hospital of Orange County then transferred to Hoag Hospital in Newport Beach to work in the emergency room in 2003. Five years later, she received a Master's Degree at UCLA School of Nursing in Acute Care along with her Clinical Nurse Specialist.
Gina Has worked in the emergency room for 13 years. Her first job as a Nurse Practitioner was at Harbor General emergency room in 2008. She then moved on to Little Company of Mary Torrance Emergency Room in 2011 and continues to work there part time. She is nationally certified through the ANCC as an acute care nurse practitioner (ACNP-BC).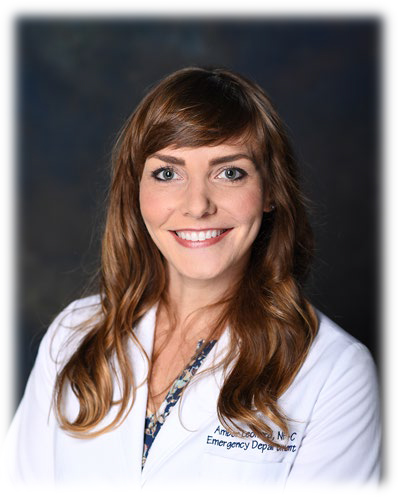 Amber Leonard, RN, MSN, FNP-C
Amber attended University of California, Santa Barbara and obtained her Bachelor's degree in Psychology in 2005. She then attended Mount Saint Mary's University where she obtained her second Bachelor's degree in Nursing in 2008. Prior to becoming a Nurse Practitioner, she worked as a RN for 8 years at Torrance Memorial Medical Center on the Cardiac/Telemetry Unit and the in Emergency Department. Amber obtained her Master's degree in Nursing and Family Nurse Practitioner certificate in 2013 from California State University, Long Beach. Amber started working in the Emergency Department at Providence Little Company Mary Torrance in March 2016.