ESPMA managing physicians all live in the local area, and are active leaders in the hospital and in the community. All ESPMA partners are Board Certified and are experts in the practice of emergency medicine. Three of our managing partners are Oral Board Examiners for the American Board of Emergency Medicine. Several of our partners perform quality reviews, serve in national and local leadership positions, publish research and serve as expert witnesses, and are involved with numerous charitable causes. ESPMA also contracts with independent emergency physicians who work part-time and some of these doctors choose to come on full time and develop into future clinical partners. ESPMA also contracts with nurse practitioners who are invaluable to the smooth and expeditious running of the emergency department.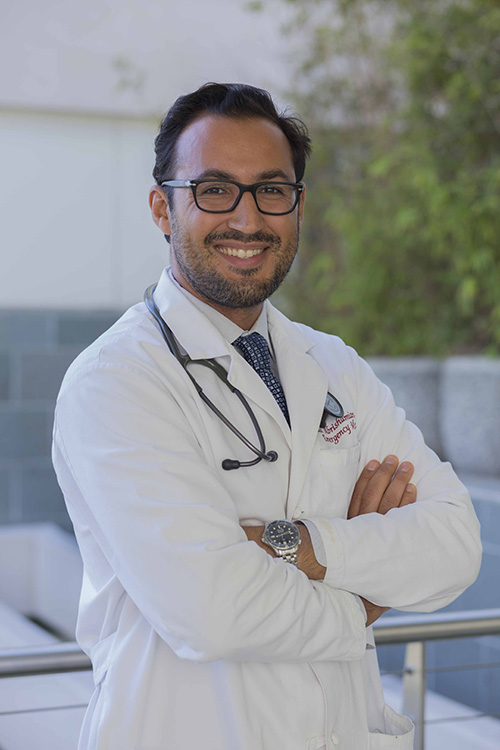 Luis Abrishamian, MD
Dr. Abrishamian grew up in the Boston area and attended MIT for his undergraduate studies with degrees in chemical and biomedical engineering. Following MIT, he attended the University of Massachusetts Medical School and graduated in 2008. For his residency training, he attended the LAC+USC Emergency Medicine Residency Program and graduated in 2012. After completion of his training he joined the medical staff at Providence Little Company of Mary Hospital Torrance in 2012. In recognition of his great work ethic and collegiality Dr. Abrishamian received the Mission Spirit Award in 2014. The Mission Spirit Award Recognizes those selected as outstanding examples of consistent behavior in alignment with the Mission and Core Values of Providence. He is a member of the RN-MD Interdisciplinary Practice Committee and is active in hospital philanthropy. In addition, he is the Director of Pediatric Medicine and Physician Recruitment for ESPMA.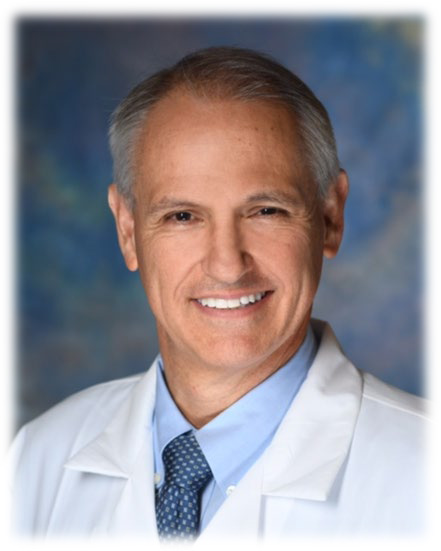 Brad Baldridge, MD
Dr. Baldridge began working at LCM-T in 1992. He grew up in South Pasadena and graduated from Brown Medical in 1986. He did his internship, residency and Chief Residency in Emergency Medicine at Harbor-UCLA, completing his training in 1990. After a stint at St Mary's in Long Beach, he has been full time at PLCMMCT since 1998. He is the physician representative on the Disaster Committee, in addition, he responds to many patient complaints for the department, is a member of the Medical Executive Committee, Chairs the newly formed EDIE Committee and is Chair of the Nominating Committee for PPH. He is Medical Director for the Manhattan Beach 10k Race. He was a recipient of the Mission Spirit award. Some of his outside interests include basketball, stone houses, reading and spending time with his teen son and wife. Dr. Baldridge is the co-founder of the "15 to 50" disaster response program which has been adopted by the California Department of Health Services.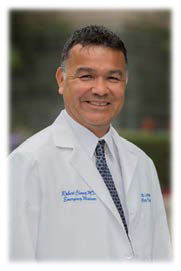 Robert Chavez, MD
Dr. Chavez completed his undergraduate and medical school training at UC San Diego. After a year of Internal Medicine training at the West Los Angeles VA, Dr. Chavez went on to complete his residency in Emergency Medicine from Kern Medical Center. Upon completion of his training he became ED Medical director at East L.A. Doctors hospital followed by an Assistant ED Director position at Daniel Freeman Memorial Hospital until 2005. He joined the Medical Staff of PLCMMCT in 2006. He has been an American Board of Emergency Medicine Oral Board examiner since 2010.
Dr. Chavez has worked on multiple hospital projects including the Emergency Department deployment of Meditech and EPIC as well as participating in several Kaizen events as well as writing emergency protocols for the department and the hospital. He has served on multiple committees including the Physician Advisory Group, PISC Committee, Triage Committee, Critical Care Committee, Pharmacy and Therapeutics Committee and the ED Core leadership group. He has given multiple lectures on a number of topics ranging from the ED treatment of the trauma patient to hypothermia therapy after return of spontaneous circulation. Dr. Chavez Co-authored the first Hypothermia Protocol still in use at PLCMMC Torrance today. His professional interests include ED operations, ED business management as well as hypothermia after return of spontaneous circulation. In addition, he donates to the American Heart Association, Miller Children's Hospital and to the Providence Little Company of Mary Foundation.
Dr. Chavez assumed the role of Treasurer for the group beginning in April of 2019. He lives in Redondo Beach and enjoys spending time with his wife Kay, is an avid spear fisherman and beach volleyball player.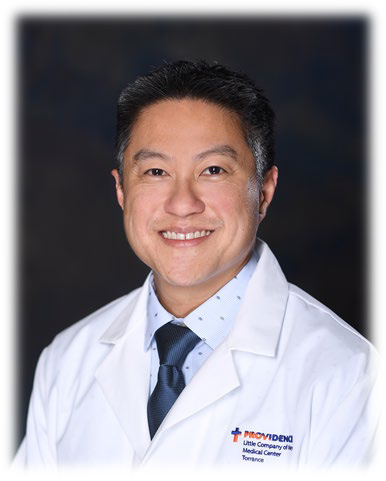 Bao Duong, MD
Dr. Duong joined the medical staff at Providence Little Co. of Mary Medical Center in 2007 after completing his residency and moved back to the south bay. He grew up in Manhattan Beach and went to UCLA where he majored in Microbiology and Molecular Genetics. His medical degree was obtained at Yale University and he completed his residency at Stanford University. Dr. Duong is currently the Co-Director of the Advanced Practice Program in the emergency department and works with the nurse practitioners as well as ED staff to improve the front end/triage process of the department. Outside of work, he enjoys going to the beach, traveling and spending time with his wife, son and daughter.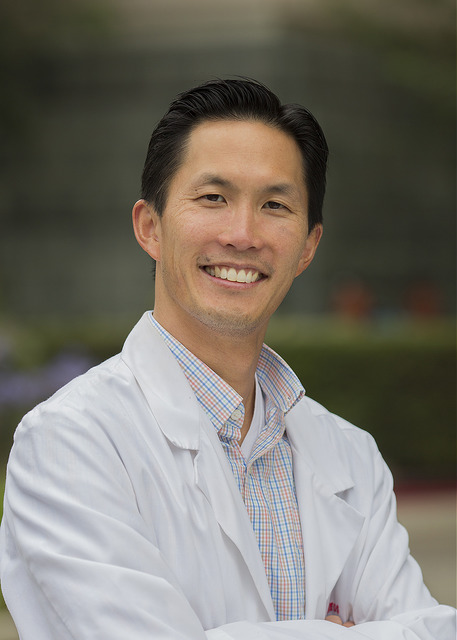 Andrew Louie, MD, MPH
Dr. Louie has been an emergency physician at Little Company of Mary, Torrance since 2008. He was born at LCOM-Torrance and grew up in the south bay. He attended Occidental College and majored in Psychobiology. He received his Master's in Public Health at Johns Hopkins University. His medical degree was obtained from George Washington University. He is Board Certified in Emergency Medicine, completing his Emergency Medicine residency at Northwestern University. Since joining the staff at LCOM-Torrance, he has participated in hospital committees including the Pharmacy and Therapeutics Committee, the Infection Prevention and Blood Products Committee, Utilization Review Committee, and the Sepsis Steering Committee. For the Emergency Department, he serves as the Co-Director for the Nurse Practitioner and Advance Practice Program and a member of the Front End Triage Committee. Outside of the hospital, he enjoys traveling with his wife, running, and playing the guitar.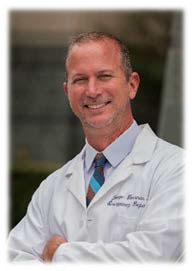 Jorge Vournas, MD
Dr. Vournas was born in Pasadena and grew up in Altadena where his father still lives in his childhood home. He graduated as valedictorian of his high school before going off to UC Berkeley for college. There he majored in Neurobiology with an English literature minor. He competed on the intercollegiate soccer team. He also spent time in scientific research with Alzheimer's Disease. Although interested in science, research was not his passion, so he volunteered at Highland General Hospital in the Emergency Department. This experience sparked his interest in medicine and eventually in emergency medicine.
Dr. Vournas went to medical school at State University of New York in Brooklyn where he gained an appreciation of East coast culture and weather. He graduated with honors with Alpha Omega Alpha distinction. He returned to the west coast to complete his internship at Harbor-UCLA and emergency medicine residency at UCLA. He worked at several hospitals in Los Angeles after residency including St. Johns, Tarzana and Cedars-Sinai. He came full time to Little Company of Mary in 2001.
Soon after coming full time at LCM, Dr. Vournas took on the role of Base Station Medical Director as well as Medical Director for Torrance Fire Department. Starting in 2007 Dr. Vournas helped develop the hospital sepsis program and created all hospital sepsis protocols. Dr. Vournas became interested in informatics once Providence introduced Meditech as its EMR. He spent several years optimizing this EMR with close collaboration with Meditech IT analysts. This included changes to trackers, order sets, documentation templates, physician, nurse, tech, and registration work flows. His overriding philosophy is to create a workflow for every member of the team that makes their job most efficient and enjoyable. This will in turn create an efficient positive experience for our patients.
At the end of this cycle of improvements, Providence announced its plan to change to Epic. Dr. Vournas was selected to be the physician champion for the hospital transition to Epic. He spent a year in preparation supporting six other Providence Epic go lives. After a very successful transition to Epic at LCM in April 2014, Dr. Vournas was selected as California regional informaticist representing the emergency departments of all six California Providence hospitals. Always interested in process improvement and efficiency, Dr. Vournas became involved in the Emergency Department Value Stream Analysis project starting in January 2013. Shortly after, this lead to him becoming Assistant Medical Director of the Emergency Department. He took over as Medical Director of the Emergency Department in July 2014.
Dr. Vournas lives in West Los Angeles with his wife of 15 years, Yeon Yi and eight year old son Magnus. He enjoys basketball, golf, spending time with family and friends.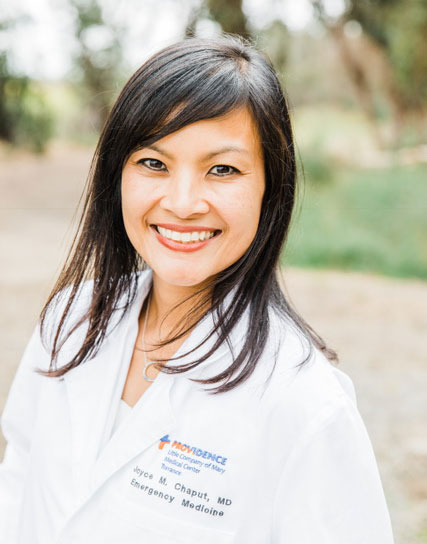 Joyce Chaput, MD
Dr. Chaput has been an Emergency Physician on staff at Providence Little Company of Mary Medical Center since 2011. She grew up in the South Bay and attended high school at Mira Costa. She completed her undergraduate degree from the University of San Francisco and then got Master degree in Medical Sciences from Boston University. She decided to stay in the northeast and got her medical degree from the University of Vermont. During her 4th year of medical school, Dr. Chaput spent time working in a hospital in Swaziland, Africa. Dr. Chaput completed her residency at the University of Chicago where she was also a flight physician. She always knew she wanted to return to the South Bay. She moved back in 2009 and initially worked at St. Francis Medical Center prior to coming on full-time at LCM. Outside of the hospital, Dr. Chaput stays very busy with her family and her two young children.